Introducing the WiFi DashCam Pro®
Magnetic Quick Link
Magnetically links the mount with the dash cam for a safe, secure fit.
Instant Playback
Easily detach and view your recording right from the dash cam.
Photo Capture
Features a one-touch picture mode to instantly snap a still photo, even while recording.
Video Right to Your Phone
View HD footage and photos directly from the dash cam on your phone.
Download HD Footage In Seconds
G-Sensor
Automatically saves and locks the current video file if it detects an impact.
Loop Recording
Automatically deletes the oldest recording once the memory card is full.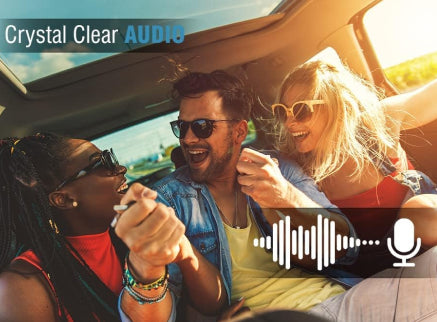 360º Swivel Mount
Records crystal clear video and audio, inside or the outside the vehicle.
Frequently Asked Questions
What accessories are included with the WiFi Dash Cam Pro?
WiFi Dash Cam Pro®
Car charger
Suction cup mount
Adjustable neck mount
Magnetic connector
Micro SD card reader
Reset pin
User manual
Quick start guide
How long will the battery backup last once fully charged?
About 30 minutes on a full charge. The battery will maintain a full charge when the charging cord is connected to the accessory jack. Thirty minutes is more than enough time to download files to your smartphone. The dash cam can also power up if the unit detects motion while in parking mode, which will turn the camera on to record another car making accidental contact with your vehicle.
How do I pair the Wi-Fi Dash Cam Pro® to my phone?
Download the "Goplus" app to your smartphone. Press the "UP" arrow with the "Wi-Fi" icon on the side of the dash cam. The "Wi-Fi" icon will appear on the dash cam screen. Look for the Dash Cam network on your smartphone's wifi network screen and select it. Enter the password "12345". Open the Goplus app on your smartphone and select the "Wi-Fi" icon on the home screen. You're connected.
How do I mount or install the Wi-Fi Dash Cam Pro® in my car?
Use the suction cup mount on the windshield and an adjustable clamp mount on the neck of the rearview mirror.
Does this Wi-Fi Dash Cam Pro® need an active internet connection?
No. The WDCP generates its own Wi-Fi signal to connect with your smartphone to download image and video files. It does not allow you to connect to the internet.
Does the Wi-Fi Dash Cam Pro® come with an SD card?
Yes! Each Wi-Fi Dash Cam Pro® comes with one 16GB SD card.